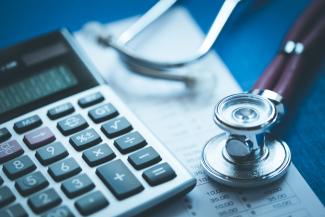 How do I pay the medical bills from my accident without insurance?
If you've been injured in an accident that wasn't your fault and you have no insurance there are a couple of options.  Accidents are stressful.  You may be out work, you may be struggling to pay your bills on top of being in pain from your injuries.
No Fault States
In some states there are no fault insurance laws, which allow claimants to cover medical expenses from their own insurance company regardless of who was at fault for the accident.  You can't sue the other party until you either reach a threshold.  Florida, Michigan, New Jersey, New York and Pennsylvania require a verbal threshold (i.e. serious injury – like a fracture in New York). Hawaii, Kansas, Kentucky, Massachusetts, Minnesota, North Dakota and Utah use a monetary threshold (i.e. specific dollar amount minimum – Hawaii is $5,000). 

What if my state doesn't have no fault laws?
Your medical insurance may cover your injuries from the accident.  However, if the accident is someone else's fault then their insurance coverage may have to be exhausted before your medical insurance kicks in.  If you don't have medical insurance then you need pay for your own financial losses until you can recoup the money from the other party's insurance company.
States without no fault laws include:
Alabama, Alaska, Arizona, Arkansas, California, Colorado, Connecticut, Delaware, Georgia, Idaho, Illinois, Indiana, Iowa,  Louisiana, Maine, Maryland, Mississippi, Missouri, Montana, Nebraska, Nevada, New Hampshire, New Mexico, North Carolina, Ohio, Oklahoma, Oregon, Rhode Island, South Carolina, South Dakota, Tennessee, Texas, Vermont, Virginia, Washington, West Virginia, Wisconsin, and Wyoming. 
Medical Payment Coverage
Medical payment coverage also known as "med pay" generally pays for medical costs after you were hurt in a car accident, regardless of who is at fault.  Medical payment coverage is a lot like no fault insurance.  Medical payments insurance may also help pay for funeral expenses, injuries sustained by your passengers, injuries you sustain as a pedestrian or cyclist if a car hits you, and dental care required as a result of a car accident.  Check to see if the other person's policy has med pay insurance if you don't and this should cover your expenses at least up to the policy limits. 
Medicaid
Medicaid is a social health care program for families and individuals with limited resources.  After an accident you may lose your job and health insurance and still require treatment for your injuries.  If you get into an accident and have no health insurance or lose your health insurance then you may qualify for Medicaid.  If so, Medicaid should cover your bills going forward and may even cover your past expenses. 
Negotiating with Health Care Providers
There are many physicians, surgeons, chiropractors, and physical therapists who often work with accident victims who have no health insurance.  Usually the health care professionals will agree to treat you immediately as long as you guarantee to pay them when your lawsuit settles.  They will require your attorney to reimburse them for their medical services before you are paid anything from the settlement. 
Borrowing Money against Your Case
Another alternative is to borrow money against your lawsuit.  You can borrow money to pay for surgery, doctor's visits, physical therapy etc. today and pay it back when your case settles.  When you borrow money against your lawsuit you can also use it to pay other bills like rent/mortgage, car payments/repairs, groceries, child care, tuition and more!
Bridgeway Legal Funding
Bridgeway Legal Funding provides personal injury plaintiffs with cash advances for their medical bills and other expenses.  We provide excellent customer service, a quick application turnaround and industry low rates.  To apply for funding give us a call at 800-531-4066 or fill out the form on our website at BridgewayLF.com.