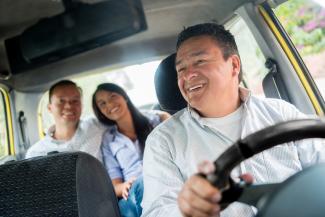 If I'm a passenger in a car accident am I entitled to settlement money?
If I'm a passenger in a car accident am I entitled to settlement money?
If you're a passenger in a car accident you usually have a great case.  Whether your driver or the driver of another car was at fault, as a passenger you do not have to prove who is at fault.  As a passenger liability is typically not contested. 
Filing a Claim
A passenger can file a claim with each driver's insurance companies if it was a multi-car accident.  However, if one driver is clearly not liable, such as with a rear end auto accident, then the passenger might only file one claim against the at fault party. 
If the accident occurred in a no fault state, then the passenger would file a personal injury protection (PIP) or no fault claim.
Settling the case
If both drivers are at fault then the jury will decide what percentage of the damages each side must pay based on their contribution to the cause of the accident. 
For example if the damages amount to $100,000, but one party is 70% at fault and the other party 30% at fault, then the insurance companies will pay $70,000 and $30,000 respectively.  This disparity in fault could cause an argument on driver liability between the insurance companies who are trying to pay as little as possible to the injured passenger.  The ensuing fight could cause a delay in the settlement paid to the injured passenger. 
Multiple Passengers
You may not be the only passenger in a car accident.  All of the injured passengers can file claims against the at fault driver, but there is a limit to the insurance coverage for each accident.  If the value of the personal injury cases of each passenger exceeds the total insurance coverage for the accident then each victim would have to settle for less than what their case could have potentially been worth. 
Insurance Limits
There are minimum insurance limits required by law in each state, but most people buy more than required by law.  For example in New York the minimum insurance limits are 25/50/10, which means your insurance company will pay if you are responsible for bodily injury up to $25,000 per person, $50,000 per accident and $10,000 for property damage.  A common policy limit is 100/300/50, but if the insurance limits are unknown, then you must assume they are the minimum when determining the value of your case until the limits are disclosed by the insurance company. 
For a list of every state's minimum insurance limits click here.
Bridgeway Legal Funding
Bridgeway Legal Funding provides pre-settlement lawsuit advances to passengers involved in car accidents.  If you've been involved in a car accident and need cash to pay bills we can help.  We offer excellent customer service, quick approval and industry low rates.