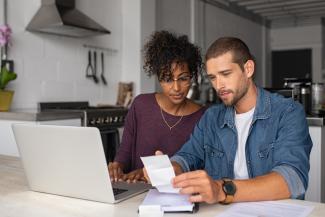 How can I get another advance on my lawsuit if the company tells me no? How do I get a buy-out?
Can I take out multiple cash advances on the same lawsuit?
Did you know the average personal injury lawsuit takes one to three years to process? Most accident victims can't afford to wait that long to get their settlement check-- especially, for example, if they're injured, or their car was destroyed in an accident. One way to get cash faster is to take out a cash advance with our team at Bridgeway Legal Funding.
But what if you've already received an advance from another funding company but still need more money while you wait for your settlement?  Give Bridgeway a call today, we can dig into your case and see if there is more room for additional advances.  If we think there is room for more funding, Bridgeway will pay-off your balance with the other funder and get you new money immediately.
It's not unusual for accident victims to need multiple cash advances; actually most people receive more than one advance on their case. Some funding companies have strict policies on how much you can borrow or how often you can re-apply for additional. At Bridgeway, as long as you haven't already borrowed 20% of your case value, we can try to get you the money you need today.
What happens if another funding company told me if I'm not eligible to take a second advance?
Not all pre-settlement cash advance companies have access to the resources we have at Bridgeway Legal Funding. For that reason, many of our clients have come to us from other companies who did not have the capability or willingness to provide them with an additional cash advance.
If you've received an advance from a funding company, and they reject you for further funding, our team can consider a "buy-out" for you, meaning we can approve you to pay back the money you currently owe to another funding company and advance you additional new money.
Are "pre-settlement funding" and "non-recourse cash advances" the same?
Yes. There are many different names for a "lawsuit loan":
Car accident funding

Non-recourse cash advance

Auto accident pre-settlement funding

Car accident lawsuit funding

Injury settlement funding

Car wreck settlement loans

Pre-settlement cash advance
All of the above refer to the same idea: a non-recourse cash advance against your pending car accident claim or lawsuit. If you need to miss work to nurse your injuries after an accident, and need help paying your bills in the meantime, pre-settlement funding might be right for you.
We help you get cash fast so you can stay afloat. As a non-resource advance, "lawsuit loans" are actually not a loan at all, because if your case is unsuccessful for any reason, you won't have to pay back any money.
Can I take out multiple cash advances or use multiple pre-settlement funding companies at once?
Simply put, the answer is no; almost all funding companies will prohibit you from taking funding from more than 1 company at a time. Remaining with one pre-settlement funding company mitigates the risk of your case being over-funded. It is very important not to borrow too much or allow you case to become over-funded and may leave you with little or no money at the end of your case. For this reason, those who need additional funding and have been rejected should contact our team to discuss getting a buy-out from Bridgeway Legal Funding.
How do I get a buyout for a second cash advance?
Getting a buyout is easy; if the math works, Bridgeway would be more than happy to help you out. Call or email us today to explain your case and funding needs. We'll review the details and contact your previous funding company to inquire about how much is currently owed. We assess all the factors of your injury claim, calculate and estimated value and then decide how much more room there is for a cash advance.
What companies offer buyouts of previous lawsuit loans?
Thanks to our network, we're able to get buyouts for our clients faster than any other competitor. We never check your credit score or process a background check, either.
How long does it take to get a buyout?
As long as we have the details of your original advance and the information we need to review your claim, we can usually complete the advance within 24-48 hours.
For more information on how to qualify for a car accident settlement loan, click here.
To apply for a car accident settlement loan, click here.