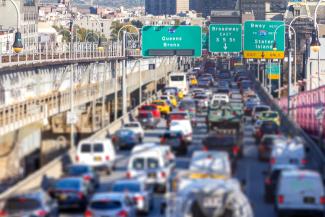 What is "no-fault" insurance and how does it work in New York?
No-fault insurance laws require drivers to file a claim with their respective car insurance company following an accident, regardless of who was at fault. No-fault insurance laws vary by state. However, states with the strictest no-fault laws pay out no-fault first party benefits and restrict a driver's right to sue. Motorists can sue for severe injuries or pain and suffering if their case meets certain requirements. The requirements are known as a threshold and relate to the injury's severity.
No-fault insurance systems were put in place to help lower car insurance costs by way of removing small claims from the courts. Insurance companies pay out their own policyholders the cost of any minor injuries whether they were responsible for the accident or not. "No-fault" does not just mean the insurance company pays for certain losses regardless of fault, however. It's more layered than that. No fault only applies to states where an insurer pays first-party (its own policyholder) benefits and there are restrictions on the right to sue.
*Source: Insurance Information Institute
No-fault car insurance in New York
New York is among 12 states (along with Puerto Rico) in the U.S. that have no-fault car insurance laws. No-fault is also known as Personal Injury Protection (PIP) and covers economic losses (medical and health expenses, lost wages and other costs associated with sustained injuries) up to $50,000 per person. No-fault benefits cover the driver, the passengers injured in the vehicle and any pedestrians the vehicle injured during its use or operation in New York State.
New York's No-Fault law limits car accident lawsuits to ones dealing with economic losses that exceed no-fault benefits and non-economic damages where a serious injury is sustained. Fractures, significant scaring, loss of a fetus are considered serious injuries. 
Since no-fault is considered personal injury coverage, it doesn't pay for car repair or damage done to another party's vehicle or personal property. PIP will also pay for injuries ahead of the driver's health insurance if the injury is due to a car accident.
Under no-fault coverage, your car insurance company offers protection for you and any relatives who live in your home against economic losses due to car accident-related injuries that happen in the U.S., its territories or Canada. No-fault insurance also covers passengers hurt in accidents in New York State while they are in your vehicle. Guest passengers who are New York residents that are injured in your vehicle while in the U.S., its territories or Canada are also covered if they don't already have such protection with another insurer in New York State. No-fault also protects pedestrians if a motor vehicle injures them in New York.
No-Fault car insurance benefits in New York
In New York, no-fault car insurance protection covers reasonable and necessary car accident related medical and rehabilitation expenses. Claims must be filed within 30 days of the accident to be eligible for no-fault benefits. These benefits are usually limited to $50,000 unless the policyholder bought additional benefits. 
Policyholders can receive 80% of lost earnings from work, up to $2,000 per month for up to three years from the date of the car accident. These payments are subject to statutory offsets for New York State disability, Worker's Compensation and Federal Social Security disability benefits.
Other New York no-fault car insurance benefits include payments of up to $25 per day for up to year from the car accident date for additional reasonable and necessary expenses. These expenses include household help or rides to and from medical appointments that are needed because of the accident. No-fault coverage also includes a $2,000 death benefit, in addition to the $50,000 basic no-fault limit. This benefit is payable to someone's estate that was eligible for no-fault benefits and was killed in car accident.
Cann't afford to wait? Get a cash advance today.
Bridgeway Legal Funding offers risk-free cash advances on car accident lawsuits. The process is quick & easy with most client receiving their pre-settlement funding within 24-48 hours. An advance on your injury claim, also known as a "lawsuit loan", is a tool to get a piece of your future settlement now and you only have to pay the money back if you win your case.